PARALLEL Gorilla Brace
$129.95
Includes all parts for installation with the exception of the steel beam which is purchased locally. Please choose the size of the Pushing Rod Idler (2", 3" or 4") based on the width of your steel beam before adding to the cart (no price difference).
Description
Parallel Gorilla Wall Braces Kit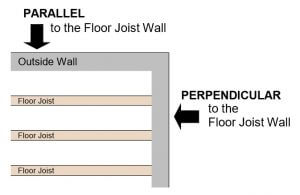 The PARALLEL Gorilla Wall Braces are used to straighten bulging basement walls that are PARALLEL to the ceiling floor joists.
Each Gorilla Wall Brace comes as a kit with all assembly parts included, except for the steel beam. The steel beam is purchased locally as it is too cost prohibitive to ship because of the length/weight – see specifications below.
Per our engineering testing specifications, Gorilla Wall Braces® need to be installed every 32 inches or 48 inches along the bowing/bulging basement wall that you wish to straighten depending on the wall type (see specifications below).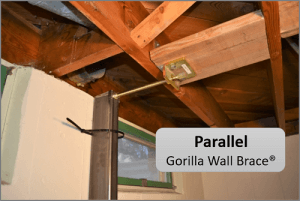 An engineered floor bracket is included in each kit. The bracket requires no removal of the concrete floor. NOTE: if the floor is too thin or deteriorated for the screw anchors to hold, cut out concrete 16″ square x 1″ deep & pour concrete around the steel beam.  4″ depth (or greater) required.
Written installation instructions are included in each order, along with a link to a video on YouTube to guide homeowners through the entire installation process. A DVD is also available upon request for those without internet access.
STEEL BEAM SPECIFICATIONS…
Steel beams must be obtained locally. The cost for us to ship them to you would be extraordinarily high. Try a google search for "steel ibeams near (where you live)".
Requirements for basement walls under 8′ high (and soil level under 7′) – 3 options:
steel I beam, 9.5 lbs per foot- S 4 x 9.5 lb (4.00″ x .326″ x 2.796″) A36/A572-50 Standard Steel
steel H-beam, 13 lbs per foot – W 4 x 13 lb (4.16″ x .280″ x 4.06″) A572/A992 Steel
2″ x 4″ tube steel at 1/4″ thickness
Requirements for basement walls higher than 8′ (and soil level higher than 7′) – 2 options:
steel H-beam, 13 lbs per foot W 4 x 13 lb (4.16″ x .280″ x 4.06″) A572/A992 Steel
2″ x 4″ tube steel at 5/16″ thickness
Rod Idler Sizes to center Pushing Rod on steel beam (see requirements above):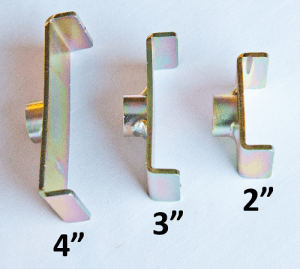 BRACE SPACING SPECIFICATIONS…
Spacing requirements for Gorilla Wall Braces® based on our engineering specifications…
32″ spacing for 8″, 10″ or 12″ block walls
48″ spacing for 10″ or 12″ block walls (under 8' wall height & soil level under 7')
All steel beams can be used on block or poured concrete walls, where 4′ spacings are permitted unless cracked in different directions–then use closer spacing of steel beams. If blocks are cracked/crumbling or you have wall shear, contact us for installation options. Generally, we recommend I-beams/H-beams on block walls since they have more surface area and would more efficiently spread out the pressure against the wall.
48″ spacing for poured walls (if vertical cracks or wall is tilting in from top, please contact us for options)
How to Measure Beam Locations…
PARALLEL: Measure from the bottom of the floor joist to the floor. You will have room to variate on length from the bottom of your floor joist to the sub-floor.
PERPENDICULAR: This is a precise measurement. To obtain the correct measurement of your steel beams, be sure to measure each brace location individually just in case there are irregularities in your concrete floor. Measure from the bottom of the floor joist to the floor and subtract 5/8″. That 5/8″ subtraction will accommodate the 3/8″ floor bracket your steel beam will sit on and give you 1/4″ clearance on top.
Because of the weight/high cost for shipping, the steel I-beams for the brace assembly are purchased locally.
** Note:  The Gorilla Wall Braces® system should not be used if walls or floor joists are too soft. Use the Hold-Right® Anchor system instead.
Additional information
| | |
| --- | --- |
| Weight | N/A |
| Dimensions | N/A |
| 2", 3", or 4" Pushing Rod Idler (choose width to match steel I-beam) | 2", 3", 4" |