Customer Testimonials
Don't take our word for it – here's what our customers say:
I've seen a lot of basement walls BOW in! Mine finally did it too. I searched extensively for a cost effective solution to fix the problem. I found "GORILLA WALL BRACES". Great people, reasonable price, NO digging, patented… and doable. I'm DIYing it myself, but finding a contractor to do it should be a breeze.
Mike B.
Sauk Village, Illinois
A great company… I contacted them about the Gorilla Wall Braces for my bowing basement walls and they were glad to help… and made sure I had everything I would need to do it. And they were only a call away…!! The braces were easy to install and I will soon have straight basement walls again. Great product and a great business to work with.
Keith R.
Maumee, Ohio
When my basement walls started bulging inward I got estimates from other basement companies… It was nice to have a DIY solution to fix a bowing basement wall myself. Not only did Gorilla Wall Braces save me money – it was reassuring that their design went through engineer testing. Definitely would recommend!
Pete G.
Green Bay, Wisconsin
Your customer service is excellent. By doing this project myself, it saved me over $3000.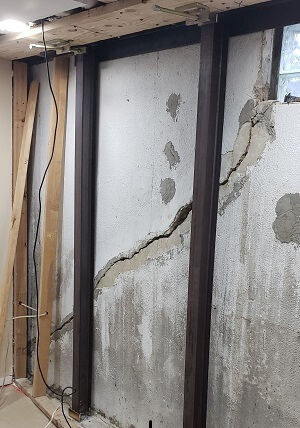 Michael E.
Ypsilanti, Michigan
Andy (seen in the video)… [walked] me though my unique situation step by step… He also provided PDF's for installation and videos… I [appreciate] that I can do this job myself!

I had three contractors come out and all three had different ideas about what needed to be done with none of their explanations giving me as much confidence as what I learned about deciding to go with Gorilla Wall Braces.

This company is top notch and I will have saved anywhere from 3-5K by going with them and (IMO) the most appropriate and effective choice.
Shane H.
Columbia, Missouri
The Gorilla Wall Brace System worked great!

Thank you.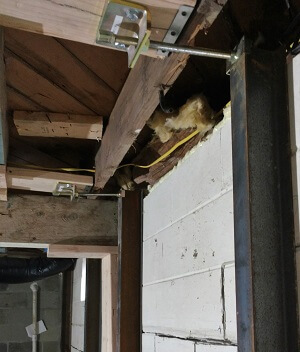 Lee M.
Kellogg, Iowa
"Glad I finally took care of this!"
Gorilla system installation only took about 7 hours. It has been in 1 month and there is a noticeable difference on a 30 year old bowing issue. Great product has everything needed. Support from Resch is there when you need it.
Michael H.
Ohio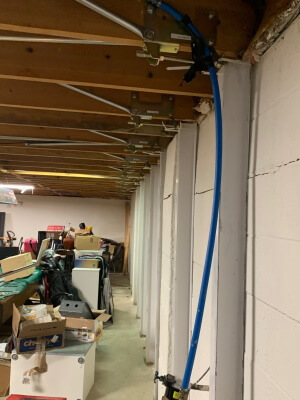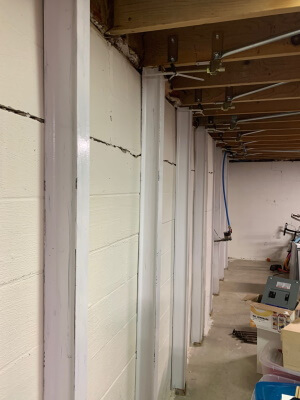 Gorilla Wall Braces Review
Jerry W. in Brownsville, MN wrote…

"The Gorilla Braces worked GREAT! I had a block wall with a 4 inch bow. After the braces were in place and it was excavated outside along the wall… I began to tighten the Gorilla Wall Braces, just a couple turns every hour or so. In 3 days time the bow was almost totally gone. See the attached pictures." CLICK PLAY to see a video of Jerry's before/after pictures of how Gorilla Wall Braces® straightened his severely bowing basement wall.
SEE PRICING OF GORILLA WALL BRACES
ABOUT US
Family-owned since 1967, we have been in the business of fixing basements for over 50 years.
VIDEO EXPLANATION
Watch video to learn why basement walls bow inward and how Gorilla Wall Braces® straighten bowing walls.